The Ultimate Happy and Healthy Thanksgiving Side
Share This
---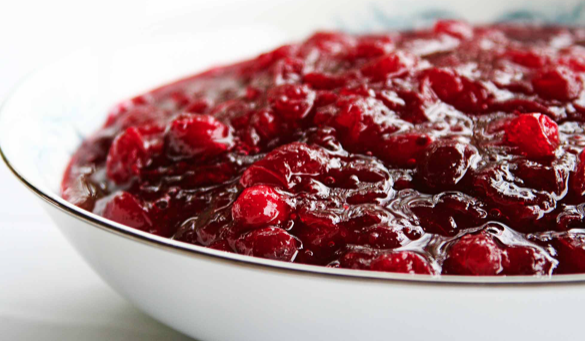 Cranberry sauce is synonymous with Thanksgiving. Yet too many tables opt for the canned variety leaving many running for cranberry cover rather than reveling in the free radical fighting potential the homemade version can have.
The tart stuff is packed with an antioxidant punch, and many recipes call for spices like clove and cinnamon, and can be naturally sweetened with oranges or a minimally processed orange juice, rather than high fructose corn syrup.
This holiday we're sending you a cranberry dressing recipe to be thankful for. What it's got:
Cranberries: One of the healthiest fruits in the world. Period. They are anti-inflammatory, anti-cancer, anti-bacterial fighting badasses of the berry world and pack a vitamin A, C and K punch keeping you healthy in the cold autumn months
Cinnamon: The list can go on and on. This antioxidant rich super food is anti-microbial, anti-inflammatory, anti-cancer, anti-bacterial, heart benefitting and extremely accessible. Not to mention, cinnamon helps prevent spikes in blood sugar which is great when indulging in a Thanksgiving feast
Cloves: On a day of eating and drinking in excess, it's always helpful to protect your liver. They are also good for reducing gastric irritability, indigestion, and nausea
It's quick. It's easy, and it's a delicious and healthy way to impress your loved ones.
Recipe:
4 cups fresh cranberries, picked over and rinsed
2 cups raw honey
6 tablespoons water
6 tablespoons of orange juice
¼ teaspoon salt
1 zest, of one orange
2 whole cinnamon sticks
2 whole cloves
½ teaspoon allspice
Bring all the ingredients to a boil in a medium saucepan. Reduce heat, and simmer until cranberries begin to burst and liquid thickens, 10 to 15 minutes. Remove cloves and cinnamon stick, and discard. Refrigerate until chilled.