Experience the nutrition and lifestyle breakthrough that is giving my clients

instant results

.
It's one of the most personalized approaches and lowest-cost alternatives in achieving the healthy, high-performing life you've always wanted.
If you want to:
✅ Stop calorie counting and start eating easy to consistently stay healthy
✅ Remove confusion around nutrition and the daunting research of 5,352 articles, diets, and books that may improve your performance and self-image
✅ Discover what works for your body because the idea that we are all individual and unique resonates with you…
Within the book you'll find:
✅ Hydration hacks for any place, in any situation
✅ An extensive shopping list that will forever instill mindfulness in what you buy
✅ Personalized paths carved from the beginning, based on all body types
✅ Sport-specific information on nutrient timing
✅ How to individualize and be your own food scientist, exemplifying how our nervous system can react to certain foods
✅ Commons myths about fad diets, GMOs, and more debunked
✅ Tips on sleep, recovery, supplements, weight loss/gain, how to eat on-the-go, and so much more!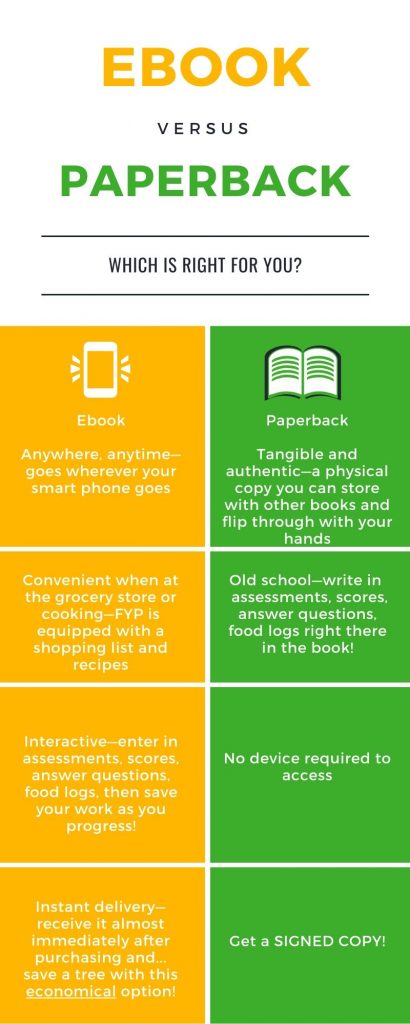 Disclaimer: If you are looking for a miracle book to dieting FYP is NOT for you.
If, instead, you are looking for tools that help your unique body feel and perform its absolute best, this nutrition guide is for you.
FYP is a step-by-step process. Each day you're given action steps, reading material, or both amounting to ONLY about 10–20 minutes a day, PLUS there are tons of pictures 😉
Trust The Science.
I've gathered experience and knowledge through professional consultations with leading exercise physiologists, athletes, naturopathic doctors, medicinal chefs, registered dietitians, nutrition coaches, and neuro sports performance specialists to bring this guide to fruition.