Healthy snacks and foods for the superbowl
Share This
---
3 in 1 has taken the time to research the healthiest snack and foods for the Superbowl. First things first, how bad are our eating habits during Superbowl?
On average, according to the U.S. Calorie Control Council, Americans pack away 11 million pounds of chips on Super Bowl Sunday! Furthermore, The average American consumes enough calories for the whole day during the game (about four hours). Not to mention alcohol, these calories could easily add up due to alcohol's 7 calories/gram ratio.
We are going to aid you in making the healthier choice/substitution this year for America's top Superbowl snacks and foods. Remember whatever is easily accessible or within your vision, you will most likely eat!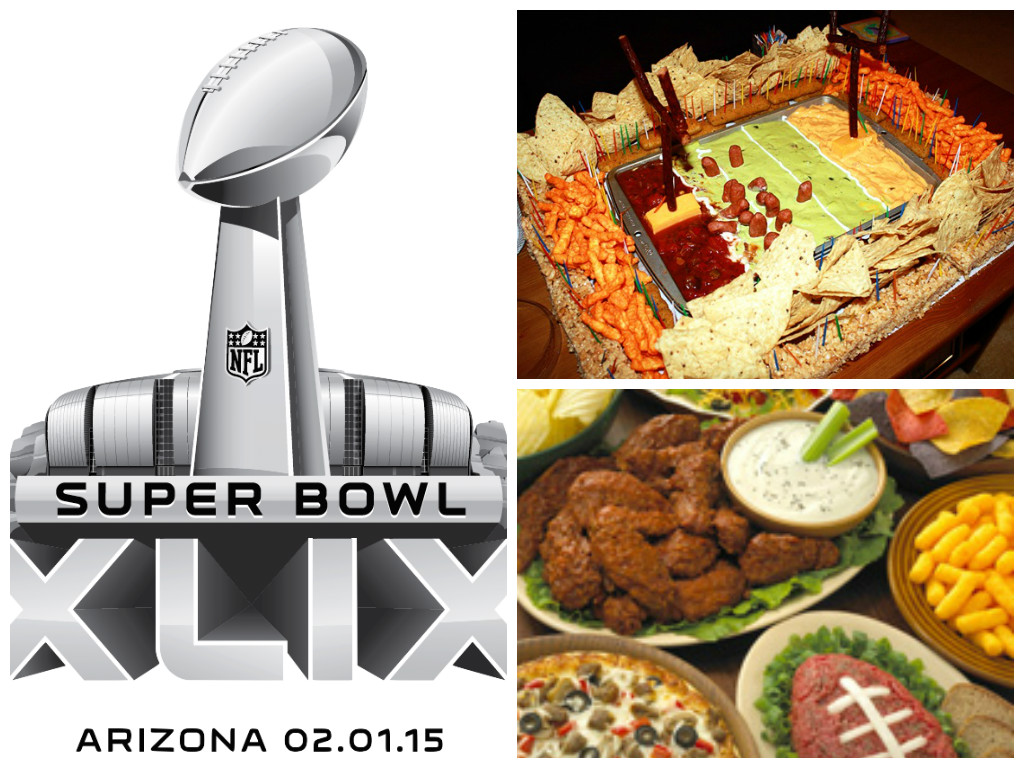 Top Superbowl Food Picks:
Chicken wings
Salsa (two alternative dips)
Chips
Chicken Fingers
French Fries
Burgers
Pizza
Brownies
For the sweet tooth
Healthier Choice:
–Lemon-Drop Chicken Wings
These spiked wings have a tangy lemon taste and are baked, not fried.
Ingredients: Lemon juice, sugar, olive oil, chicken wings
Calories: 173
-Warm Spinach-Artichoke Dip
A sneaky, low-cal way to get your family to eat iron-rich spinach and beans!
Ingredients: Olive oil, lima beans, cream cheese, Tabasco sauce, capers, mustard, artichoks hearts, frozen spinach, mozzarella cheese, Parmesan cheese, green onions, lemon juice
Calories: 59
-White Bean or Hummus Dip
Mashing the white beans or hummus (chickpeas) creates the same creamy consistency as sour cream–based dips.
Ingredients: Cannellini beans, olive oil, garlic, sage
Calories: 320
-Corn and Black Bean Chips (http://www.onegreenplanet.org/vegan-recipe/corn-and-black-bean-chips/
-Coconut Chicken Fingers with Sweet n' Spicy Sriracha Sauce
Serves 4-6
http://www.everydayembellished.ca/2014/01/coconut-chicken-fingers-with-sweet-n.html
4 chicken breast (fresh or partially thawed)
1/2 cup of coconut flour
1 cup Tamari sauce (gluten-free soy sauce)
4 tbsp Sriracha sauce
3 cups Shredded Unsweetened Coconut
Dipping Sauce (adjust according to desired level of spicy or sweet):
1.5 tbsp Sriracha sauce
1.5 tbsp honey
2 cup Greek yogurt
-Don't like coconut? Try almond meal encrusted chicken fingers
–Try Zucchini, Sweet Potato or even Eggplant Fries
Enjoy these crispy veggies for half the calories of regular french fries. Plus you'll get a boost of vitamin C.
Ingredients: Zucchinis, eggs, milk, Parmesan cheese, breadcrumbs
Calories: 181 for 11 fries
-Mini Turkey Burgers With Gorgonzola (watch the bread used, can use whole-wheat pita bread instead)
These mini burgers make the perfect protein-packed finger foods.
Ingredients: Garlic powder, ground turkey breast, Gorgonzola cheese, reduced-fat mayonnaise, gherkin pickles, dinner rolls, curly leaf lettuce or kale.
Calories: 169
-Pita Pizza
Load this up with veggies, use olive oil and avoid deli meats
Ingredients: http://www.rd.com/food/pita-pizzas-recipe/
Calories: 137
-Fudgy Chocolate Brownies
Unsweetened cocoa keeps the fat content low on these decadent brownies.
Ingredients: Margarine, unsweetened chocolate, unsweetened cocoa, sugar, eggs, flour, baking powder
Calories: 132
-Sweet and Spicy Pecans
Ingredients: http://therealdealmarin.com/2013/04/01/delicious-cocktail-pecans/

-Feel free to slice up any fresh fruits and serve to satisfy those sweet teeth!
Thanks to our friends and sources at:
www.fooducate.com
www.health.com/health/gallery/0,,20338949_6,00