Hailey Brocket
TCU '22 | CIF STATE CHAMPION | JUNIOR NATIONAL QUALIFIER
1-on-1 Training
Share This
---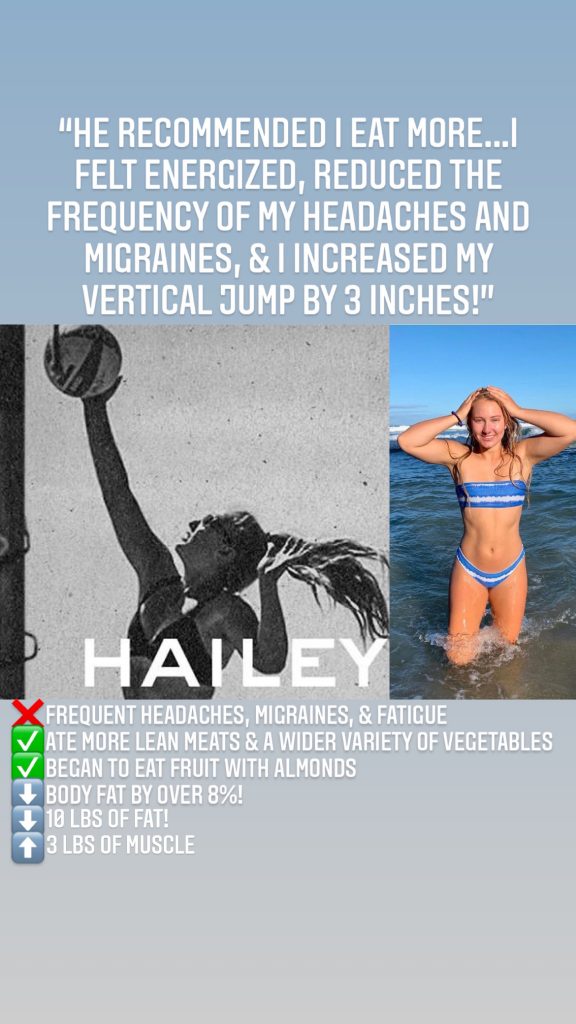 Hailey Brockett1st Place American Division
Junior National Qualifier
CIF State Champion
Hailey's Volleyball goal was to increase her vertical jump and decrease ankle sprain/tightness. In our first month we:
-Improved vertical jump by 3 inches
-Reduced body fat by 8% & loss 6 pounds of fat
-Ankle pain/tightness is non-existent & much more confident
-Enhanced visual processing translating to improved quickness
-She won a state championship!
A volleyball player who wanted to improve her vertical jump, but had experienced frequent headaches, migraines, and fatigue. "While training with Abe, he recommended I eat more. He wanted my plates filled with bright colors and a palm-size amount of protein. I started to eat more lean meats and a wider variety of vegetables. I also started to eat fruit with almonds. After a few months, I had reduced my body fat percentage from 22.92% to 14.45%! I felt energized, reduced the frequency of my headaches and migraines, and I increased my vertical jump by 3 inches!"
Watch out for her collegiate career at TCU!