LIAM
Liam B., Kiddo
Concussion/Special Case
Share This
---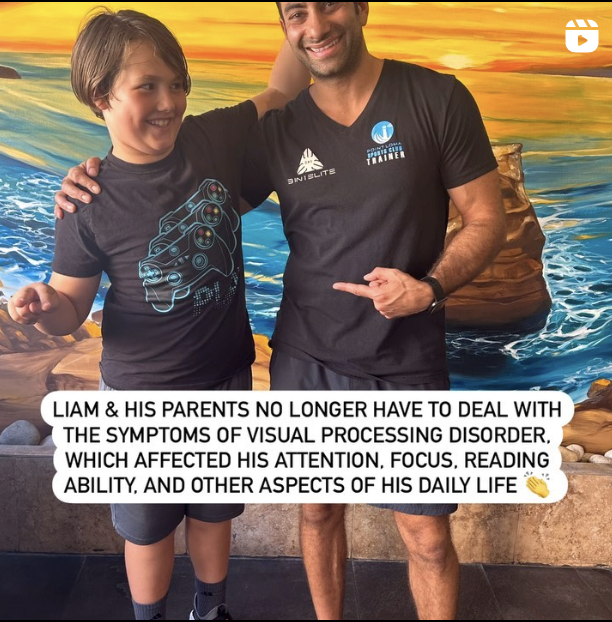 Walking and running can really tell us a lot about overall brain function.
Along with some other tests, we were able to pinpoint some amazing drills that helped Liam overcome his visual processing disorder. Check out some words from his mom Francesca:
"Working with Abe has been a life-changing experience for Liam. We initially sought his help due to Liam's visual processing disorder, which affected his attention, focus, reading ability, and other aspects of his daily life. Additionally, Liam struggled with clumsiness, lack of smooth movements, coordination issues on his left side, balance problems, and spatial perception difficulties.
Thanks to Abe's expertise and dedication, we have seen remarkable results in Liam's progress. His focus and ability to stay attentive in class have improved significantly. Liam no longer gets easily frustrated and has become one of the strongest readers in his class, which has boosted his confidence. We have also noticed improvements in his math processing skills. In addition, his handwriting has improved, and his eye-hand coordination has become more precise. Liam's movements are now smoother, and he has become one of the top-performing students in his class. Moreover, his balance and spatial perception have shown significant improvement.
What we appreciate most about working with Abe is his ability to create a supportive and motivating environment. He genuinely cares about Liam's progress and tailors his program to meet Liam's specific needs. Abe's patience and encouragement have made the sessions enjoyable for Liam, keeping him motivated to push through challenges and achieve his goals.
To be honest, we were initially hesitant about hiring a trainer and unsure if the program would have the desired impact. However, Abe quickly alleviated our concerns by thoroughly explaining his approach and providing testimonials from other satisfied clients. He took the time to understand Liam's unique situation and addressed our questions and hesitations with professionalism and expertise.
We are incredibly grateful for Abe's expertise, guidance, and the transformative impact he has had on Liam's life. We wholeheartedly recommend him to anyone seeking help with similar challenges. Working with Abe has been a game-changer for Liam, and we are forever grateful for his dedication and support."